Even for experienced cooks, Christmas dinner presents a unique challenge. Felicity Cloake examines every aspect of the main course and makes mince pies and brandy butter to keep everyone going.
Turkey and gravy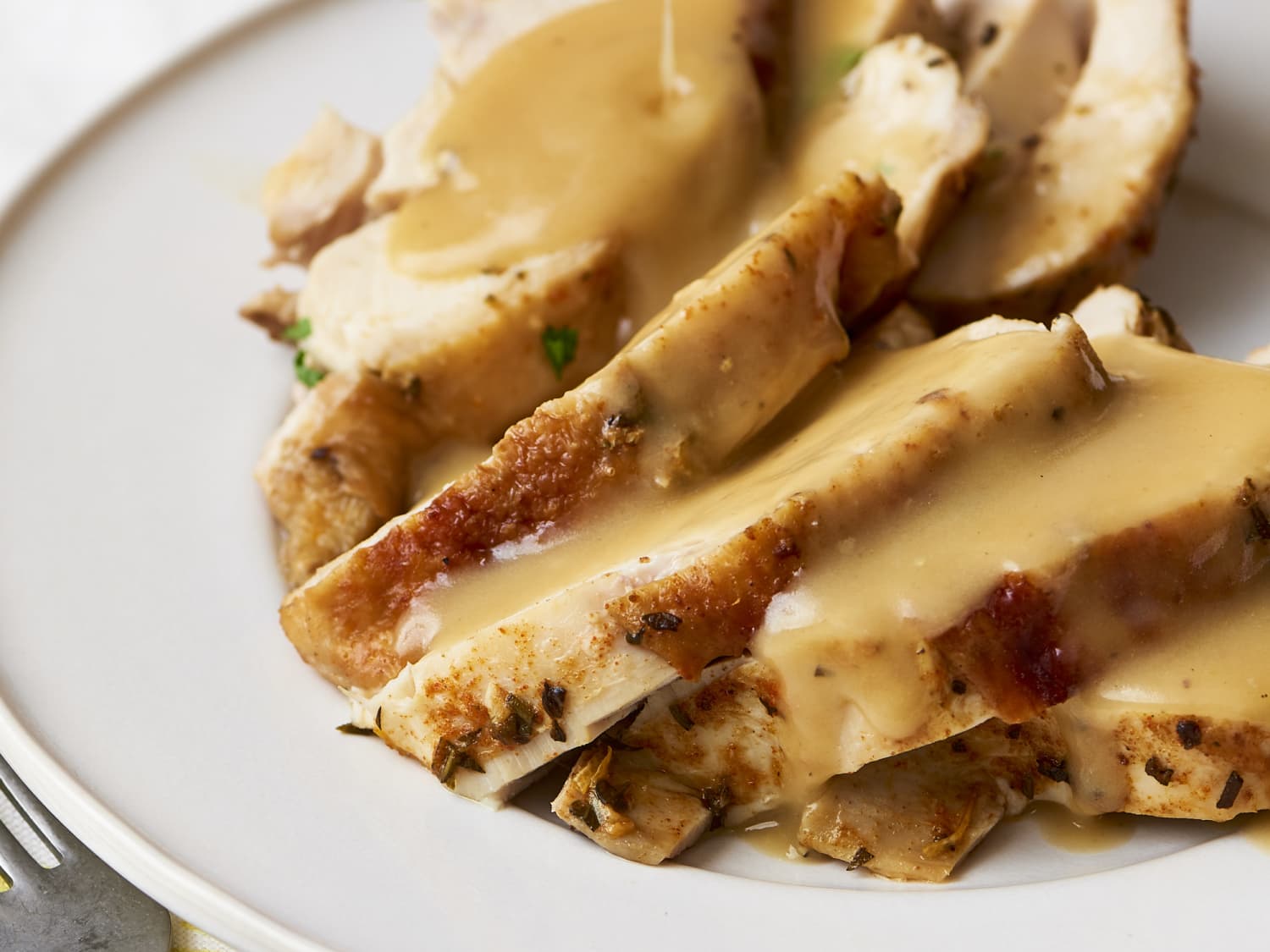 Thanks to a national fondness for tradition, turkey remains the centrepiece of most festive celebrations in this country, despite its reputation for tinder-dry blandness. A good bird does have several things going for it, apart from its immense size, however – matchless trimmings are the principal attraction as far as I'm concerned. But how on earth do you achieve that elusive combination of juicy meat and crisp savoury skin to make it worthy of those pigs in blankets?
Delia Smith claims to come from "a long line of turkey cooks", so I'm happy to put bird number one on her capable hands. Her apparently foolproof method involves basting the bird generously with melted butter, seasoning it, topping with streaky bacon and then wrapping it festively in foil, while leaving enough room for the air to circulate during cooking. My efforts look more like a Chinese takeaway swan that's been heavily sat upon than the "neat parcel" described, but it's what's inside that counts. After an initial 40 minute blast at 220°C, the turkey cooks quietly at 170C for a couple of hours, before I remove the foil and turn the heat back up so it can tan for the final half hour. The meat is indeed juicy – I can see why Delia's fortunate family enjoy it right "down to the jelly and dripping" – but the skin, while tasty, falls short on the crispness front.
The following day, as luck has it, I'm invited to eat an early Christmas dinner at Leiths Cookery School – who have somehow managed to produce a skin so crisp that it's served on a separate plate, rather like crackling. Their secret weapon, I discover, is a square of fine cotton rejoicing in the glorious name "butter muslin", available at most kitchen shops. I soak the material in a bowl of melted butter, season the turkey, then drape the muslin reverentially over it and pop it in the oven at 180°C for three hours. So easy it almost seems to be good to be true – but it's fabulous: a crunchy cinnamon tan skin and moist meat beneath.
I can never resist messing with perfection, however, so when I hear an American friend mention bringing a turkey for Thanksgiving, I can hardly wait for them to finish their story before I ask for a recipe. They kindly point me in the direction of the excellent Cooks Illustrated magazine, which furnishes a recipe - and what a recipe.
I wash out the mop bucket, dissolve 350g table salt in 7 litres of water, and plop the turkey in it. It bobs about rather gruesomely, so I stick the bucket outside and hope it's too cold for foxes to venture out. Five hours later, I fish the bird out, rinse it and tenderly pat it dry, then stick it in the fridge for 8 hours to dry out. It's beginning to dawn on me that this is in no way a quick recipe.
To make a gravy worthy of the occasion, I tried adding cranberry sauce and port, as suggested by Good Food magazine, but they overpowered the delicate flavour of the turkey. Instead, take a leaf out of turkey queen Martha Stewart's book, and slip in a generous slug of Madeira – its rich, honeyed flavour works brilliantly, and you can drink the rest of the bottle with some Christmas cake the next day.
1 x 3-4kg turkey, with giblets
170g butter
½ an onion
Bay leaf
1 large piece of cook's muslin
For the gravy
1 tbsp plain flour
4 tbsp Madeira
568ml hot poultry stock or water
1. Take the turkey out of the fridge a couple of hours before cooking. Heat the oven to 180°C (160°C fan)/350°F/gas 4.
2. Melt the butter in a large bowl, and soak the muslin in it; it should all be absorbed. Season the turkey liberally with salt and pepper, and put it in a large roasting tin with the turkey neck, giblets (except the liver) onion, bay leaf and 300ml water. Cover the turkey completely with the folded muslin and put it into the hot oven.
3. After one hour and 20 minutes, turn up the oven to 220°C (200°C fan)/425°F/gas 7, remove the muslin and check the temperature at the thickest part of the thigh, away from a bone – once it hits 60°C, the bird is done, so at this point, you can judge how much longer to leave it in. Put back in the oven uncovered for about another 25 minutes, depending on the reading from the thermometer – if you don't have a thermometer, the juices should also run clear from the thigh when you pierce the thickest part of the thigh with a skewer.
4. Remove the bird from the tin and put it in a warm place to rest for at least 30 minutes before carving.
5. Pour the juices and fat from the roasting tin into a gravy separator, or skim off as much as the fat as possible from the top and discard. Mix the flour to a smooth paste with 2 tbsp of the meat juices, and pour the rest of the juices back into the tin on medium heat, stirring to dislodge any bits on the bottom. Stir in the flour paste, the Madeira, and a ladleful of stock, mix well, and then add the rest of the stock. Bring to a simmer, and cook, stirring, until it has reached your desired thickness. Season to taste and serve with the turkey.
Sage and Onion Stuffing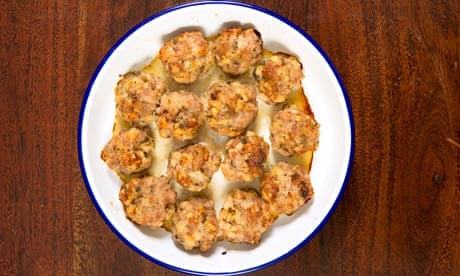 Stuffing is one of the main reasons I can never quite bring myself to step away from poultry at Christmas time. I quite like playing around with different flavours (chestnut and prune, or apricot and ginger), and have long had Jane Grigson's oyster stuffing on my to-do list, but sage and onion is the undisputed classic. Traditionally, it would have been made with bread, which was both cheap and had the virtue of soaking up all of those delicious meat juices – something I've always feared would detract from my gravy. Sausagemeat, however, tastes pretty good already, which is not something that can always be said about soggy bread.
However, in the interest of giving tradition a fair trial, I make two stuffings, one with a breadcrumb and apple base, as used by Leiths, and one with sausagemeat, as recommended by Delia. Leiths soften the onion in butter first, Delia uses it raw – but then she also calls for dried sage, so I'm just going to cross my fingers and hope for the best. I have to admit that I prefer the sausagemeat version – it's firm and crisp, rather than stodgy – but the lemon zest and sweeter onion of the Leiths recipe are worth borrowing. I'm with Delia on the fact that a beaten egg makes the finished stuffing too firm, though – like her, I prefer it slightly crumbly.
I also try adding some chopped turkey liver, as recommended by Delia in another recipe, but find the Offaly flavour rather strident; nutmeg, however, adds a gentle hint of festive spice. To lighten the texture slightly, I've increased the ratio of breadcrumbs to sausagemeat, and, taking a tip from the delicious magazine, toasted half the breadcrumbs first, to provide a hint of crunch. Feel free to tinker with the flavourings as you wish, but I would urge you to make the full amount – cold stuffing is even better the next day.
Makes about 14 balls
Knob of butter
1 large onion, finely chopped
75g white breadcrumbs
Small bunch of sage leaves, finely chopped
Grated zest of ½ lemon
450g pork sausagemeat
Nutmeg, to grate
1. Melt the butter in a frying pan over gentle heat, and soften the onion. Turn the heat up to medium, and add half the breadcrumbs. Fry until golden.
2. Mix the onion and toasted breadcrumbs with the rest of the crumbs, the sage and lemon zest, then add the sausagemeat and mix well with your hands. Season and grate over a little nutmeg and mix again.
3. Form into walnut-sized balls, put into a greased baking dish, and bake for half an hour at 200°C while the turkey is resting.
Cranberry sauce

Cranberry sauce is ridiculously easy to make, and, because you can make it ahead of time and keep it on display, suggests you're a bona fide domestic deity, when in fact all you've done is chucked a few ingredients into a pan. Well, unless you make Delia's cranberry and orange relish, of course, which calls for the fruit to be finely minced before cooking. Chopping up fresh cranberries is not a job I'd wish on anyone – they're slippery little buggers, and I'm red of face as well as hand by the time I've finished. Cranberries, like most other recipes, acknowledge handily break down of their own accord when heated, giving a more interestingly varied texture than the laboriously minced versions.
I like the orange juice in Delia's sauce, although I find the level of peel rather overpowering – a sprinkling, as suggested by Leiths, is preferable. The port she uses gives a much richer flavour than the cherry brandy in Nigella's redder than red version, which I find rather sickly. The ground ginger, cloves and cinnamon in Delia's recipe detract from the clear, sharp flavour of the fruit though: this Christmas recipe needs no festive spice to make it special.
Serves 8
Juice of 1 orange, plus zest of ½ orange
210g caster sugar
450g fresh cranberries
2 tbsp port
1. Put the orange juice and sugar into a small pan, and heat gently, stirring, until the sugar has dissolved. Add the cranberries, and bring to a simmer, then cook until most of the cranberries have burst, and you have a loose cranberry sauce. It will continue to set as it cools, so stop cooking when it still seems a little too liquid.
2. Stir in the port and orange zest, and serve, or put into sterilised jars.
Bread sauce
I could eat bread sauce by the spoonful – so comfortingly bland and creamy to begin, with a just a kick of spice to remind you of its medieval roots. It's not a dish that bears much mucking around with; the most important thing to remember is to give the clove-studded onion time to gently flavour the milk base of the sauce. Jane Grigson suggests bringing it very slowly to a simmer in a bain marie, but it's easier to do it in a small pan over a very low heat, and then set it aside to infuse, as Delia suggests.
t's perfectly palatable with just milk, but to really push the boat out, stir in a little of the clotted cream you can also use for your brandy butter – it doesn't water down the sauce as much as the double cream more normally used for the purpose, and it gives a less greasy finish than butter. Both Grigson and Mrs Beeton top their sauces with cayenne pepper, which makes them look pleasingly festive – if you don't fancy that, you can always add spice with white pepper instead.
Serves 6-8
1 small onion
5 cloves
A bay leaf
500ml whole milk
115g white breadcrumbs
1 tbsp clotted cream (optional)
Nutmeg, to grate
Cayenne pepper, to serve
1. Cut the onion in half, and stud with the cloves. Put into a small pan with the bay leaf and the milk, and bring very gently to a simmer. Turn off the heat and leave to infuse for at least half an hour, but longer if possible.
2. Remove the onion, cloves and bay leaf, and gently heat the milk. Whisk in the breadcrumbs and heat, stirring, until you have your preferred texture. Stir in cream, if using. Season with salt and white pepper, and grate in nutmeg to taste. Serve warm.
Roast potatoes
Turkey may be the nominal centrepiece of the Christmas table, but if you get your roast potatoes right then frankly, you could serve chicken nuggets and most people would still be happy as Larry. There's no big secret to greatness here: you don't need to dust them with semolina, as Nigella does (too grainy), or toss them in seasoned flour.
Don't boil them to the point of disintegration like Heston – there's no need, and half of them will fall apart – but do add some of the peelings to the pan when parboiling; believe it or not, they really do improve the flavour (just taste the cooled water for the proof). Toss the potatoes gently while draining, to rough up the edges, rather than laboriously scraping them with a fork. All you really need is hot fat, and an even hotter oven.
Beef dripping, although great with beef itself, is too heavy for turkey, olive oil is surprisingly good (although I wouldn't bother with Michael Caines' suggestion of roasting the potatoes in cold pressed extra virgin, which struck me as a waste for a distinctly average result) – but goose fat, if you dare, gives the best flavour of all. Make sure you get it nice and hot before you add the potatoes, and toss them in the fat before putting them in a good hot oven for at least 45 minutes – by the time they're ready, the turkey should have been rested and carved.
Serves 6
This recipe also works for 450g parsnips – blanch for 3 minutes instead, and cook for about 45 minutes
1.2kg floury potatoes, e.g. Desiree, King Edward, Maris Piper
Jar of goose fat or 4 tbsp olive oil
1. Pre-heat the oven to 190°C. Wash and peel the potatoes, reserving the peel. Cut them in half or quarters, depending on their size. Put them in a large pan of salted boiling water, along with the peel – it's easiest if you can put this in a muslin infusing bag. Parboil for 8 minutes.
2. Meanwhile, put 2 tbsp of goose fat, or 3 tbsp olive oil in a roasting tin and put it into the oven to heat. Drain the potatoes and discard the peel, then put them back in the pan and shake gently to rough up the edges. Take the roasting tin out of the oven and put on the hob over a gentle heat. Put the potatoes in one by one – they should sizzle as they hit the pan – and baste all over. Season.
3. Roast for about an hour until golden and crunchy, keeping an eye on them and basting with a little more fat if they begin to look dry.
Brussels Sprouts
There's no need to cross brussels sprouts on the bottom, whatever Nigella or Raymond Blanc may claim – even Delia concedes that, these days, an incision is "unnecessary". It just makes them waterlogged and mushy. Instead, the most important thing is to pick small sprouts, and to watch over them like a hawk so they don't overcook. If you can only find large ones, cut them in half before cooking, a la Gordon Ramsay, or you'll end up with raw middles and soft outer leaves. I tried cooking them with chestnuts, as suggested by the Leiths Cookery Bible, but found the textures too similar; crunchy toasted almonds are a much better complement to the vegetable's nutty flavour.
500g brussels sprouts, washed and trimmed
Large knob of butter
100g flaked almonds
1. Bring a large pan of salted water to the boil. Put the sprouts in, and cook until just tender – depending on their size, this will take about 5 to 8 minutes, but keep checking, because overcooking will be fatal.
2. Meanwhile, melt the butter in a large frying pan, and add the nuts. Toast until lightly browned. Drain the sprouts, add to the pan and toss well to coat. Season and serve immediately.