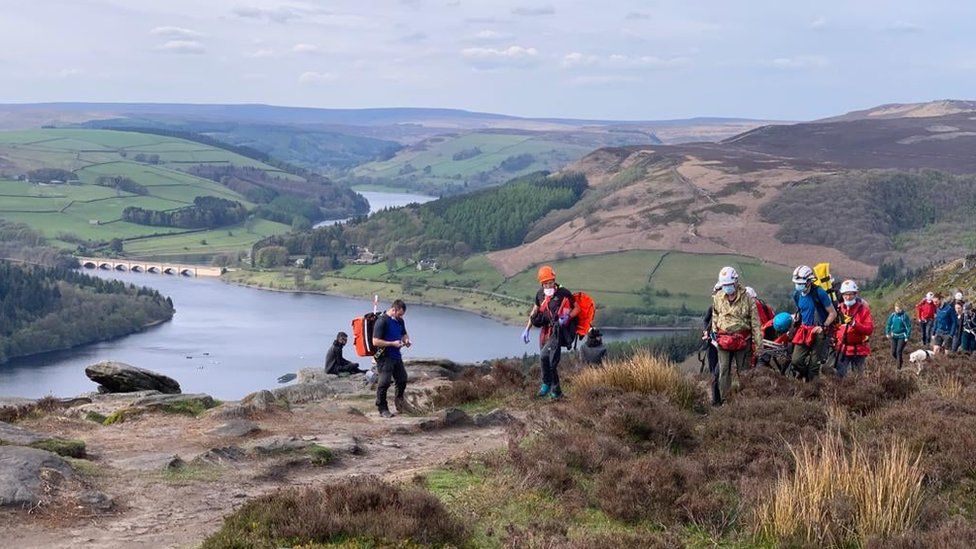 Image Sourced: BBC Derbyshire
The climber narrowly avoided serious injury when a boulder was thrown at him while he was climbing in the Peak District
Edale Mountain Rescue Team was called to Bamford Edge, Derbyshire, on Saturday afternoon after reports of a climber with a leg injury just below Great Tor.
A spokesperson for the team said "fortunately the climber was wearing a helmet which took a glancing blow before hitting his leg."
Derbyshire Police are investigating the incident and are asking for any witnesses to come forward. This was after the rescue team said a group of males ran from the scene "before they could be apprehended."
The climber sustained a serious leg muscle injury and was taken to Northern General Hospital in Sheffield.
"Without the helmet or if [the climber] had been hit more fully on the head, things could have been a whole lot different and serious," the team said.
"The climber's leg injury was dealt with and he was evacuated down to an ambulance on New Road.
"This type of behaviour is totally irresponsible and could have had potentially fatal consequences.
"Do not throw rocks over the edge of crags and cliffs."
David Torr, team leader of the Edale Mountain Rescue, added: "He has not broken his leg but it is badly bruised."
He said the boulder "hit him on the thigh and then as it hit the ground it split in half."
In response to this incident, Mr Torr is asking people to stay safe and to "please wear a helmet if you are climbing."